Central Coast Scaffolding
0451 563 481

It is important to make sure your residential scaffolding suppliers have the training and experience to provide you with a professional scaffold service.
Whether you're painting your house, repairing the chimney, fixing the roof, converting your loft or building a complex residential development on a new subdivision, Sure Thing Scaffolding are equipped to help.
Whatever the scale of the job, we'll work directly with you to provide the best scaffold solution for your needs. We design the scaffolding in accordance with your home for the best access, safest solution and minimal disruption.

Our experienced scaffolders handle any small, medium to large sized commercial projects whether it's in retail development, industrial works, new-build, refurbishment, redecorating or re-roofing.
We are able to provide a comprehensive service from the initial planning phases to erection and dismantling of the scaffold equipment.
We understand that any disruption during trading hours can cause disorder and downtime, so you can feel assured our team will be fast, efficient, flexible and cause as little disruption as possible.

DIY scaffolding hire can be quite a cost saving, and we can competitively meet the needs of even the most challenging scaffolding installation.
When working at heights, scaffolding offers easy access, and can be very useful for doing a few jobs at once. If painting the exterior of your house, make good use of the scaffolding to clear out the gutters, repair the downpipes, trim back a tree or even clean the windows.
DIY scaffolding hire provides a great opportunity to access all those hard to get at areas without incurring any of the extra costs. Contact us today for a free quotation so we can discuss the best way to manage your project.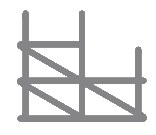 To Order
Or For A

Free
Quotation